DO YOU BELIEVE?
But without faith it is impossible to please him: for he that cometh to God must believe that he is, and that he is a rewarder of them that diligently seek him.
Heb. 11:6

1. DO YOU BELIEVE THE BIBLE IS THE INSPIRED HOLY WORD OF GOD?
YES [_] For this cause also thank we God without ceasing, because, when ye received the word of God which ye heard of us, ye received it not as the word of men, but as it is in truth, the word of God, which effectually worketh also in you that believe.
NO [_] He that is of God heareth God's words: ye therefore hear them not, because ye are not of God.
2. DO YOU BELIEVE JESUS CHRIST IS THE ONLY BEGOTTEN SON OF GOD?
For God so loved the world, that he gave his only begotten Son, that whosoever believeth in him should not perish, but have everlasting life. John 3:16
He that believeth on him is not condemned: but he that believeth not is condemned already, because he hath not believed in the name of the only begotten Son of God. John 3:18
He that believeth on the Son hath everlasting life: and he that believeth not the Son shall not see life; but the wrath of God abideth on him. John 3:36
YES [_] NO [_]
3. DO YOU BELIEVE YOU ARE A SINNER?
For all have sinned, and come short of the glory of God; Romans 3:23
For there is not a just man upon earth, that doeth good, and sinneth not. Ecclesiastes 7:20
Who can say, I have made my heart clean, I am pure from my sin? Proverbs 20:9
If we say that we have no sin, we deceive ourselves, and the truth is not in us. 1 John 1:8
But God commendeth his love toward us, in that, while we were yet sinners, Christ died for us.
Romans 5:8
YES [_] NO [_]
4. DO YOU BELIEVE YOU CAN BE JUSTIFIED OF YOUR SINS BY DOING GOOD WORKS?
Knowing that a man is not justified by the works of the law, but by the faith of Jesus Christ, even we have believed in Jesus Christ, that we might be justified by the faith of Christ, and not by the works of the law: for by the works of the law shall no flesh be justified. Galatians 2:16
For by grace are ye saved through faith; and that not of yourselves: it is the gift of God: Not of works, lest any man should boast. Ephesians 2:8-9
And if by grace, then is it no more of works: otherwise grace is no more grace. But if it be of works, then it is no more grace: otherwise work is no more work. Romans 11:6
But to him that worketh not, but believeth on him that justifieth the ungodly, his faith is counted for righteousness. Romans 4:5
Being justified freely by his grace through the redemption that is in Christ Jesus: Romans 3:24
Not by works of righteousness which we have done, but according to his mercy he saved us, by the washing of regeneration, and renewing of the Holy Ghost; Titus 3:5
YES [_] NO [_]
5. DO YOU BELIEVE THE GOSPEL (GOOD NEWS) OF CHRIST?
For I am not ashamed of the gospel of Christ: for it is the power of God unto salvation to every one that believeth; to the Jew first, and also to the Greek. Romans 1:16
Moreover, brethren, I declare unto you the gospel which I preached unto you, which also ye have received, and wherein ye stand;
By which also ye are saved, if ye keep in memory what I preached unto you, unless ye have believed in vain.
For I delivered unto you first of all that which I also received, how that Christ died for our sins according to the scriptures;
And that he was buried, and that he rose again the third day according to the scriptures: 1 Cor. 15:1-4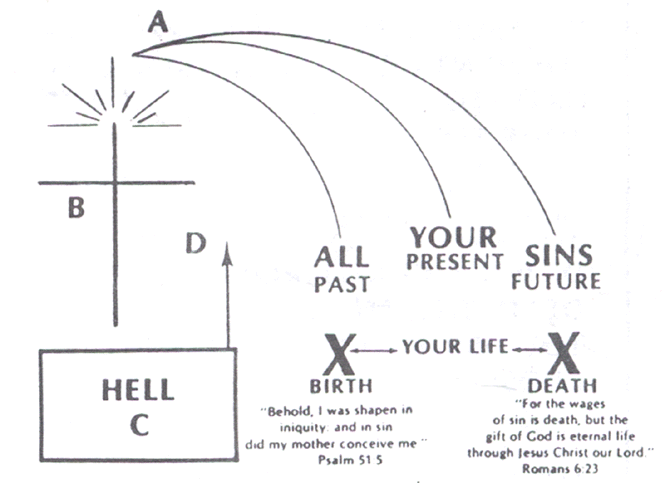 A. ALL YOUR SINS WERE PLACED UPON JESUS CHRIST.
For he hath made him to be sin for us, who knew no sin; that we might be made the righteousness of God in him. 2 Corinthians 5:21
For Christ also hath once suffered for sins, the just for the unjust, that he might bring us to God, being put to death in the flesh, but quickened by the Spirit: 1 Peter 3:18
B. JESUS CHRIST SHED HIS HOLY BLOOD UPON THE CROSS FOR YOUR SINS.
But now in Christ Jesus ye who sometimes were far off are made nigh by the blood of Christ. Ephesians 2:13
In whom we have redemption through his blood, even the forgiveness of sins: Colossians 1:14
And, having made peace through the blood of his cross, by him to reconcile all things unto himself; by him, I say, whether they be things in earth, or things in heaven. Colossians 1:20
Much more then, being now justified by his blood, we shall be saved from wrath through him. Romans 5:9
C. JESUS CHRIST DIED AND WENT TO HELL (THE GRAVE) PAYING THE PENALTY FOR YOUR SINS
He seeing this before spake of the resurrection of Christ, that his soul was not left in hell, neither his flesh did see corruption. Acts 2:31
D. JESUS CHRIST ROSE FROM THE DEAD THE THIRD DAY WITHOUT YOUR SINS THAT HE BORE ON THE CROSS.
And if Christ be not raised, your faith is vain; ye are yet in your sins. 1 Corinthians 15:17
Who is he that condemneth? It is Christ that died, yea rather, that is risen again, who is even at the right hand of God, who also maketh intercession for us. Romans 8:34
And you, being dead in your sins and the uncircumcision of your flesh, hath he quickened together with him, having forgiven you all trespasses; Colossians 2:13
Jesus said:
And he said unto them, Ye are from beneath; I am from above: ye are of this world; I am not of this world.
I said therefore unto you, that ye shall die in your sins: for if ye believe not that I am he, ye shall die in your sins. John 8:23-24
DO YOU BELIEVE?
YES [_] NO [_]
To purchase this tract and others, CLICK HERE